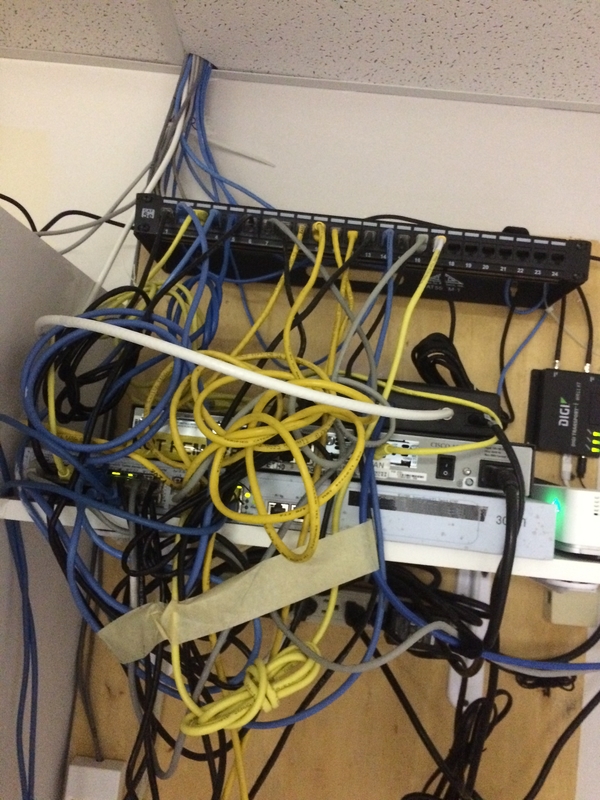 Today's photo caption: Our top advice for avoiding sticky situations like this? Don't use masking tape to manage your network cables!

Welcome back to Tech Service Today's IT Disaster of the Week series where we showcase the ugliest IT environment our technicians ran into this week.
When you've spent as many decades in the networking industry as I have, you get to see some really bizarre (albeit creative) things some people have used to manage/bundle their network cables when zip-ties and VELCRO® weren't available. I've personally seen kite string, carabiner clips, rubber bands, sections of clothesline, a cardboard toilet paper roll, and even a dirty, frayed pair of shoe laces used to bundle & clean up cabling cobwebs. But this is the first time I've run across masking tape.
The most tragic part of this week's IT disaster is not that someone used masking tape on their cables, but that they didn't restore any more order to this rat's nest than it had without the tape. If I had any hair left on my head, this image would make me want to start pulling it out. (Fortunately that ship has sailed.)
Far too many IT professionals who set up small office networks like the one shown here don't use any cable management solutions because there are so few cables connected to their hardware that they don't think they're necessary. But guess what? Small networks often grow into much larger ones. And if you don't employ best practices for managing your cables starting on day one, you won't reap the long-term benefits far into the future.
Sure, you can always ignore our advice and forego using any cable management solutions. But if you choose that path, please don't ask us to help you explain to your boss why a picture of your company's network showed up in a future edition of TST's IT Disaster of the Week blog.
Check back every Friday for TST's latest IT Disaster of the Week photo
which represents one of the thousands of customer sites our technicians visit every year as they install and service IT, networking, and telecom equipment & cabling for our clients. (You can also enter your email address in the Subscribe box to the right and we'll send you an email every time a new IT Disaster photo gets posted.)
Click here to see last week's IT Disaster photo.
Do you already have an IT disaster that needs to be cleaned up?
It doesn't take a rocket scientist to install a network. But to ensure that your equipment, racks and cabling are installed properly in an organized, efficient fashion, it does require the talents of a skilled IT technician. If you need help installing or cleaning up your network, contact Tech Service Today to have a skilled, seasoned Technician dispatched to your site.
---
At Tech Service Today, We SIMPLIFY IT, SERVICE IT, and SOLVE IT.
Call TST when you need on-site technical services anywhere in North America, even same-day when time is of the essence.
Call (800) 973-2022 (option 1), or Email us at Service@TechServiceToday.com