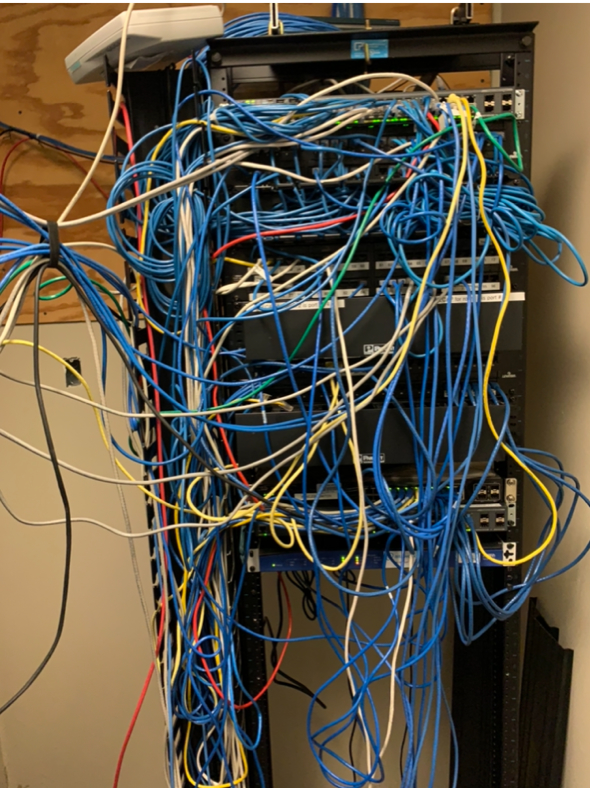 Today's photo caption: When Mardi Gras beads flying through the air are less tangled than your network cabling, you have a problem.

Welcome back to Tech Service Today's IT Disaster of the Week series where we showcase the ugliest IT environment our technicians ran into this week.
Watching a video of the Mardi Gras celebration earlier this week, I noticed some striking similarities between the beads that were thrown from the parade floats into the crowds and some of our customers' network cables. They both come in a variety of different lengths and colors, and they both can become seriously tangled when they aren't handled properly.
While beads are a traditional part of the Mardi Gras festivities, IT professionals are in no mood to celebrate when they encounter the kind of network mayhem shown in this week's featured disaster photo. But even though some people may run from sites like this, TST's technicians embrace this kind of challenge. As we state every week, our mantra is: It's never too late to do the right thing, or do things the right way.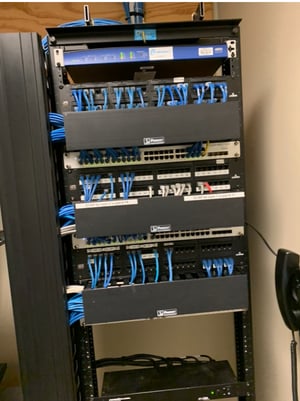 And we don't just preach this to others. We practice what we preach. In fact, it didn't take long for our technician to add a few vertical and horizontal cable managers to this rack, and then restore order to another IT disaster.
Someone should hang some beads on this rack because it's now a network worthy of being celebrated.
On Monday, as people around the globe celebrate World Wildlife Day, we challenge every IT professional to do their part by tackling their cabling jungles and restoring order to their wild IT environments. Why? Because it will make it easier and less time-consuming to perform work on your network in the future, it will help prevent the accidental cabling disconnects common with chaotic cabling cobwebs, and it will allow necessary airflow to your sensitive network equipment.
And here's one other benefit worth considering: When your network cabling is installed and organized properly, you won't have to worry about a picture of it appearing in a future edition of our IT Disaster of the Week blog. And that's something to celebrate!
Check back every Friday for TST's latest IT Disaster of the Week photo
which represents one of the thousands of customer sites our technicians visit every year as they install and service IT, networking, and telecom equipment & cabling for our clients. (You can also enter your email address in the Subscribe box to the right and we'll send you an email every time a new IT Disaster photo gets posted.)
Click here to see last week's IT Disaster photo.
Do you already have an IT disaster that needs to be cleaned up?
It doesn't take a rocket scientist to install a network. But to ensure that your equipment, racks and cabling are installed properly in an organized, efficient fashion, it does require the talents of a skilled IT technician. If you need help installing or cleaning up your network, contact Tech Service Today to have a skilled, seasoned Technician dispatched to your site.
---
At Tech Service Today, We SIMPLIFY IT, SERVICE IT, and SOLVE IT.
Call TST when you need on-site technical services anywhere in North America, even same-day when time is of the essence.
Call (800) 973-2022 (option 1), or Email us at Service@TechServiceToday.com