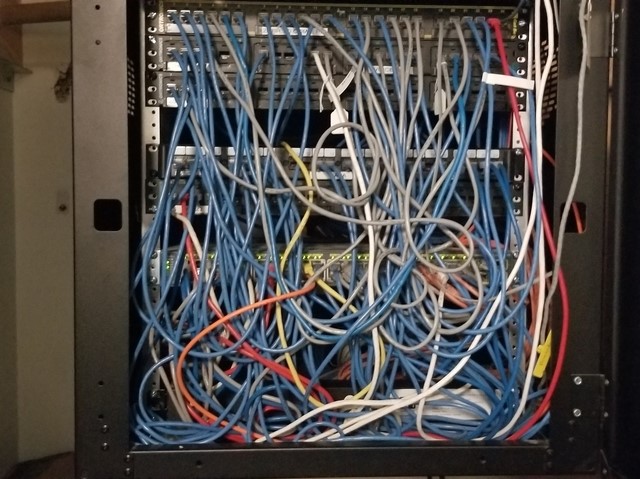 Today's photo caption: When did the Amazing Spider-Man get a job in IT?

Welcome back to Tech Service Today's IT Disaster of the Week series where we showcase the ugliest IT environment our technicians ran into this week.
I teasingly refer to this cabling mayhem as a spiderweb, but even Spider-Man would probably be disappointed in this because there's no organization or pattern to the strands. Which is why we're calling it this week's IT disaster.
As an IT professional who spent a large portion of my career focused on the physical infrastructure layer of communications networks (meaning the structured cabling systems), I recently learned something rather disturbing that I'm compelled to share with my fellow IT professionals. Structured cabling installation technicians & design engineers (RCDDs) typically dislike IT people.
Maybe "dislike" is too strong a word. But when speaking with the structured cabling folks I've known for decades about the IT disasters I write about every week, a large percentage of them blame the IT professionals for the cabling disasters that appear after they've finished performing a neat, clean installation.
My initial reaction was to go on the defensive (since I consider myself a member of both the Structured Cabling professionals and IT professionals groups). But I couldn't ignore one kernel of truth. A lot of networks that look picture-perfect after they are installed do end up looking disastrous. Since the cabling contractors who perform the installations typically aren't involved in the day-to-day moves/adds/changes work, they can't be blamed for the cabling cobwebs that eventually engulf too many network racks.
So, unless there are terroristic cabling elves traveling the world, tangling up companies' network cabling while their IT staffs are asleep, then the IT staff members who maintain their company's networks must be responsible for the photos we feature every week.
There are several reasons why this may happen. In some cases, it may be a lack of training. Just as you wouldn't expect a professional cabling installer to know how to program your switches and routers, IT leaders shouldn't expect their network engineers to be trained in cabling installation best practices. So it may be better to bring in an outside cabling contractor when you need to have new cabling installed.
We've also learned that some disasters occurred when companies tried to save money by hiring the cheapest IT contractor they could find to do cabling work on their remote networks. But as I always tell the IT leaders who make decisions based solely on price, if cheap is what you want, then cheap is what you will get.
However, if there is one overwhelming reason why too many networks turn into the disasters we feature here every week, it would be TIME. When IT staffers perform moves/adds/changes quickly without thinking them through, when their focus is solely on getting the job done quickly and not on how they do it, then things can get ugly quickly.
To our fellow IT professionals who don't want to be the cause of their company's IT disasters, our advice is pretty simple. If you don't have the skills or training needed to do cabling work, then hire someone who does. And if you do have the necessary skills, then take your time and do it correctly. Remember, it's never too late to do the right thing, or to do things the right way.
Let's all do our part to keep our networks organized and neat, and leave the tangled, chaotic webs to Spider-Man.
Check back every Friday for TST's latest IT Disaster of the Week photo
which represents one of the thousands of customer sites our technicians visit every year as they install and service IT, networking, and telecom equipment & cabling for our clients. (You can also enter your email address in the Subscribe box to the right and we'll send you an email every time a new IT Disaster photo gets posted.)
Click here to see last week's IT Disaster photo.
Do you already have an IT disaster that needs to be cleaned up?
It doesn't take a rocket scientist to install a network. But to ensure that your equipment, racks and cabling are installed properly in an organized, efficient fashion, it does require the talents of a skilled IT technician. If you need help installing or cleaning up your network, contact Tech Service Today to have a skilled, seasoned Technician dispatched to your site.
---
At Tech Service Today, We SIMPLIFY IT, SERVICE IT, and SOLVE IT.
Call TST when you need on-site technical services anywhere in North America, even same-day when time is of the essence.
Call (800) 973-2022 (option 1), or Email us at Service@TechServiceToday.com