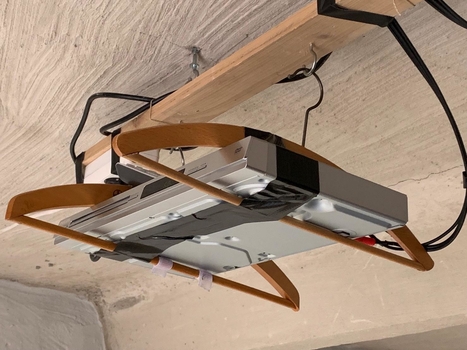 Today's photo caption: Even Cupid can't believe some IT lover did this.

Welcome back to Tech Service Today's IT Disaster of the Week series. For the second week in a row, we are straying from our normal mission of poking fun at one our customers' networks that need a little TLC. Instead we've featured a photo provided by Bryan Woodruff, an AV professional in the San Francisco Bay area, which is sure to break the hearts of many IT professionals.
While the majority of IT disasters we showcase in this blog are data/voice networks, it's important to remember that the world of Information Technology spans beyond computer and telephone networks. It also encompasses audio/video networks like those used for security systems, PA/sound systems, digital signage networks, digital menu boards, interactive wayfinding displays, and even simple solutions like the connectivity between television sets and DVD players.
Maybe I shouldn't use the word "simple" unless I'm describing the person responsible for this week's disaster solution? Actually, maybe I am partially to blame for this disaster. You see, I am forever promoting the use of racks as the ideal place for storing your IT equipment. Perhaps I haven't been clearly describing them as network equipment racks?
That would certainly explain why we've encountered at least two instances wherein people have used coat racks to mount their IT equipment. But if my vaguely-worded recommendations are responsible for blunders like those, then I may also be to blame for encouraging IT professionals to use cable hangers without explaining that I do not mean coat hangers on which you hang your cables - or in this case your DVD player - but actual cable hangers (like J-hooks, Hook&Loop wraps, and ladder rack).
Wait a second. I can't be to blame for all the IT disasters out there. Every IT professional needs to take ownership of and responsibility for their own IT disasters. But more importantly, they need to take action to clean them up. Messy networks are plagued by far more problems that well-organized networks. And not just technical problems but also increased costs because it always takes longer to perform even simple moves/adds/changes when the network is a chaotic spiderweb of cabling chaos.
Today is Valentine's Day. So it's the perfect time for every IT professional to show your network a little love by cleaning it up.
And we'd appreciate it if you showed us a little love too by sharing these disaster posts with your colleagues on LinkedIn, Facebook, and/or Twitter by using the Social Sharing buttons under the title of this post. And if you want to make sure you never miss one of our IT Disaster of the Week photo posts, just enter your email address in the Subscribe To Email Updates box on the right and click SUBSCRIBE.
[NOTE: Subscribing will not result in us spamming you with countless emails. You'll receive one email each week announcing the posting of our latest IT Disaster photo and That's it! Normally I'd say cross my heart; but being Valentine's Day, such a tacky attempt at tying a holiday theme into a technical blog would probably cause you more pain than taking an arrow to the heart. (OOPS! I went and did it anyway.)]
Check back every Friday for TST's latest IT Disaster of the Week photo
which represents one of the thousands of customer sites our technicians visit every year as they install and service IT, networking, and telecom equipment & cabling for our clients. (You can also enter your email address in the Subscribe box to the right and we'll send you an email every time a new IT Disaster photo gets posted.)
Click here to see last week's IT Disaster photo.
Do you already have an IT disaster that needs to be cleaned up?
It doesn't take a rocket scientist to install a network. But to ensure that your equipment, racks and cabling are installed properly in an organized, efficient fashion, it does require the talents of a skilled IT technician. If you need help installing or cleaning up your network, contact Tech Service Today to have a skilled, seasoned Technician dispatched to your site.
---
At Tech Service Today, We SIMPLIFY IT, SERVICE IT, and SOLVE IT.
Call TST when you need on-site technical services anywhere in North America, even same-day when time is of the essence.
Call (800) 973-2022 (option 1), or Email us at Service@TechServiceToday.com