Some TST customers place Hour-Caps on their work orders to ensure we do not exceed their on-site time allotments and/or budget constraints. Hour Caps are listed in the "Approved Hour Cap" field under the JOB SUMMARY section of any work order in the MobilePro App. Whenever a technician determines that additional time is needed to complete a job, TST must request and obtain approval from the client before the technician exceeds the Approved Hour Cap. The MobilePro App makes requesting an Hour Cap Extension easier than ever before.
How To Request An Hour Cap Extension
When you have checked in on-site and begun working on a job that contains an Approved Hour Cap, you'll see an orange icon called "HR Cap Adjustment" at the top of the screen.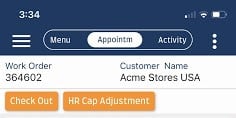 If at any time while working on one of these orders you determine that you're going to need more time to complete the job, you should begin the Hour Cap Adjustment process - preferably at least 20-30 minutes before the approved hour cap expires.
Upon clicking HR Cap Adjustment, you will need to "Click to Call TST" to make your request verbally. Whether you speak with a member of TST's service team or you leave a voicemail, your next step is to document your request in the App. Please indicate how many additional hours are being requested for this job, and the reason this additional time is needed. It will also help if you give a brief description of all work that has been completed so far, and any delays you encountered, in the Notes field.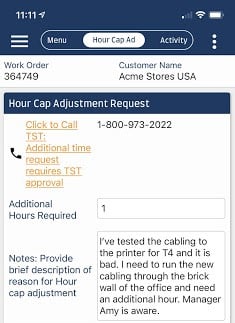 By providing all of this information in the App, it will help TST seek the necessaray customer approval without the need for multiple phone calls to you. If any additional information is still needed, TST will call you about your request.
Upon receiving a decision from our customer, TST will call and/or text you to let you know if the additional hours have been approved or denied.