We Simplify IT, Service IT, and Solve IT
Everything we do at TST is focused on keeping IT systems operational. Because when networks and equipment fail, businesses can fail.
If you are an IT professional working for a company that has far more locations & networks than you have IT staff members, then Tech Service Today (TST) is the partner you've been looking for.
We are your single point of contact for on-site technical services throughout the US, Canada and the Caribbean. It doesn't matter how remote or rural your facilites are. When you call TST, you get help fast.
Our approach is simple: We utilize the best personnel and technology available today to help our clients meet their growing needs for on-site IT/Telecom field technicians who are reliable, efficient, and accountable for their work.
Do you have IT Disasters in your remote offices?
Even if all your systems were installed wrong, TST makes IT right!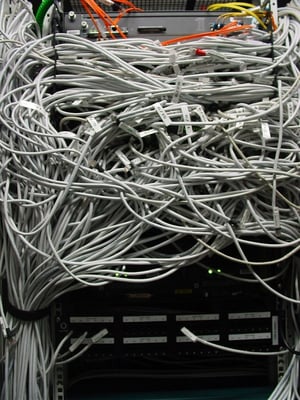 That's because we have extensive exper-ience in cleaning up the cabling chaos that plagues so much small, remote networks. TST probably sees more technological mayhem in any given weekday than most IT professionals see in an entire year. Just click on this image for a sampling of the IT disasters we encounter - and clean up - every day. Then contact us so we can help you get a handle on all your remote networks too.