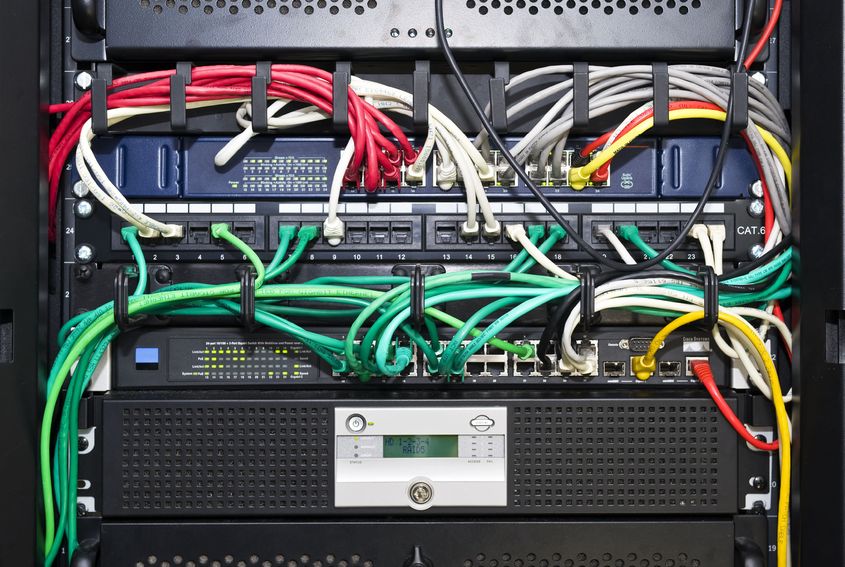 The Benefits of making Color-Coded Cabling Standards part of your company's technology plan.

IT and Network Managers spend their lives swatting at the proverbial flies that are the daily unexpected network and IT equipment issues & failures. I call these "Gnatwork" problems. Their lives are so filled with unanticipated issues that most IT professionals appreciate any advice that will eliminate some of these recurring sources of frustration. For this reason, we offer these tips on how the use of Color-Coded Cabling Standards – ideally as part of your company's technology plan – will not only improve the visual appearance of your IT environment(s), but increase an IT team's efficiencies when it comes to installing, troubleshooting, and performing moves/adds/changes to your network.
During my 30-years in the networking industry, I've visited IT professionals from every industry across the United States. No matter where I go, I consistently see one common item in the offices of nearly every Network Engineer and/or IT Manager (or in their Telco Closet or Data Center): it's a cardboard box, milk crate, or plastic bin filled with a tangled mess of patch cables.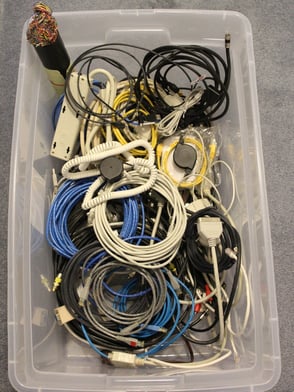 This rat's nest of varying cable lengths and colors is what IT professionals must dig through whenever they need a cable. But it's a difficult, frustrating process because the cables get tangled on the thumb tabs of other cables (often breaking them off), and it takes forever to find the right length or type of cable. For these IT professionals, I recommend the creation of a patch cable color-coding scheme by CABLE LENGTH.

COLOR-CODING BY CABLE LENGTH
Even if you don't want to color-code anything else, I recommend color-coding patch cables based on their length. Start by assigning one specific color to each cable length and post these color-to-length assignments on a wall (remembering to always purchase new cables according to these color-length assignments). For example, if you only have blue 5-foot cables, and red 10-ft cables, and green 15-ft cables, then the next time you need a 15-ft cable, you will know exactly which cable to dig out of that box/bin of patch cables. In addition to the lengths, you can also use color assignments to designate the types of cables (Cat5e or Cat6, Shielded or Unshielded, PVC or Plenum, etc).
COLOR-CODING YOUR NETWORK BY DEPARTMENT
For IT leaders in large organizations, the development of a broader color-coding scheme based on DEPARTMENT (or Equipment Type) can also improve efficiency, help prevent accidental disconnects of mission-critical devices, and reduce the amount of time spent troubleshooting problems and performing everyday moves/adds/changes.
A departmental color-coding standard – typically part of an company-wide technology plan - is created by assigning one specific cable color to each department, which is then adhered to for both the solid infrastructure cabling installed inside the walls and ceilings, and the stranded patch cables used in the data center (MDF), IT/telecom closets (IDFs), and end-user workstation locations.
Let's say you use green network cables to connect your Sales Department's workstations, servers, and network equipment; and you use red cabling for devices connected to the Legal Department's network; blue cables for the Human Resources Department, black cables for the Accounting team, and so on. If one of your technicians is dispatched to a telecom closet on the 4th floor to troubleshoot a network connectivity problem reported by a member of the sales team, the technician will be able to find the right patch panel/switch/server quickly by looking for the device connected by green cables.
In large closets or data centers, this visual identification process significantly reduces the amount of time spent finding a specific device – which can be time-consuming even when all the cables and ports are adequately labeled. And when several departments share a device (like a switch or patch panel), the color coded cabling makes it easy to identify the ports that are used by each department, thereby narrowing down the potential bad connections when troubleshooting a connectivity issue.
COLOR-CODING BY EQUIPMENT TYPE
If your company is made up of lots of remote locations (i.e. restaurants, retail stores, healthcare offices, etc.) and you have a centralized help desk team who assists non-technical personnel in your remote offices troubleshoot and resolve network issues, then having color-coded network cables will significantly help your Support staff explain which cables to look for -- and which cables to avoid.
Let's say you have a restaurant chain and every location has the same network equipment rack, containing the same set of equipment, mounted in the same rack-spaces, and connected by the same colored cables (called a store-in-a-box concept). If a restaurant manager calls the help desk for help fixing a problem with their security system's DVR and your IT Staff knows that the DVRs always have blue cables, then your team can instruct the restaurant manager to go to the equipment rack and check the blue cable connected to the DVR – and to avoid touching the red cable connected to the router (which would sever the restaurant's link to your web-based POS platform).

YOU ARE NOT LIMITED TO THE 12 OR 13 STANDARD CABLE COLORS
One of the most common questions I'm asked by customers who have embraced the practice of color-coding is "Why don't cable manufacturers make more colors?" The reason most manufacturers only offer 12 or 13 standard colors of patch cables is that there are only so many colors that can be used on cable jackets before the ability to tell two similar colors apart diminishes. However, with this tip, you can expand that pallet ten-fold.
When your corporate color-coding scheme requires more than 13 cable colors, consider introducing color-combination schemes into your standards by specifying cables with snagless boots of one color on the ends of a cable that has a different colored cable jacket. For example, put white snagless boots on the ends of your blue cables. And yellow boots on the ends of your green cables. Orange boots on your white cables, and so on. By incorporating these different colored boot/cable combinations, you will have over 100 different color schemes to use in your company cabling standards.
With all these color-combinations used in every location, image how easy it will be for your central help desk staff to offer easy-to-follow visual instructions to the non-technical personnel in your remote locations when they need their help troubleshooting connectivity issues ("in the back of the cabinet, look for the red cable with the white boot").
If your IT staff isn't equipped to make/terminate your own patch cables with these different colored boots, you can still produce these color-combinations without ordering custom-made cables. Just purchase patch cables with "basic connectors" (the clear plastic plugs on both ends with no boots covering them), and then order COLORED SNAP-ON STRAIN-RELIEF BOOTS made by companies like L-COM to accommodate every color combination called for in your company cabling standards.
By embracing and deploying a company-wide cabling color-coding standard, you'll give your IT staff (and non-technical personnel) the ability to visually identify the cabling and network electronics that support each department and/or device within your company quickly and easily. While color-coding is just one method for increasing the efficiency of the technology specialists responsible for maintaining your network(s), it may save them so much time that they actually get home in time for dinner once and awhile.

Need help planning a Wi-Fi network, or installing/servicing IT & telecom equipment and cabling in your remote offices? We can help!
Ensuring that your equipment, racks and cabling are installed properly and remain operational requires the talents of skilled IT technicians. If you need help installing or cleaning up your network, contact Tech Service Today to have a skilled, seasoned Technician dispatched to your site.
---
At Tech Service Today, We SIMPLIFY IT, SERVICE IT, and SOLVE IT.
Call TST when you need on-site technical services anywhere in North America, even same-day when time is of the essence.
Call (800) 973-2022 (option 1), or Email us at Service@TechServiceToday.com