site surveys tailored to your needs
Tech Service Today's cross-platform expertise enables us to help customers prepare for any kind of technology deployment or assessment. The billable Site Survey services most frequently requested by our customers include the following:
Pre-Project Planning Survey
Wireless Network Planning Survey & Heatmapping
Discovery Survey (assets, physical & logical layouts, environmental and electrical assessments)
Technology Inventory Audit Survey (equipment inventory, space availability, network configuration)
Telecom Audit (PBX & VoIP system configurations, Circuit demarcation locations, etc.)
Survey with Cost Estimate
Digital Signage Screen-placement & Power-planning Survey
Merger/Acquisition Assessment (inventory equipment, systems & wiring, prepare decommissioning plan)
During a site survey, TST's technicians will document the physical and logical network layout and/or whatever assets you need for them to catalog, perform network testing if desired, produce heatmap reports to help you identify the ideal placement of wireless access points, and even take photographs of everything you specify so your IT team knows exactly what each environment looks like. This not only helps you plan for the installation of new technologies, but also provides your help desk team with visual information they can use to guide local personnel through troubleshooting techniques when they report a problem in their location.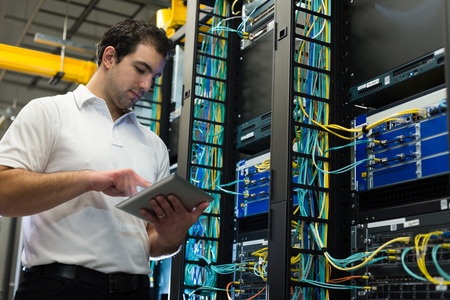 You never need to worry about surprise invoices from TST. We charge the same, flat hourly rate for all our services - from site surveys and installations, to upgrades and decommissionings.
By enlisting TST to perform a comprehensive Site Survey before rolling out new technology to your remote facilities, you will reduce - if not eliminate - the time-consuming, cost-increasing surprise hazards while you are still in the planning stage, and ultimately reduce costly delays that would otherwise pop-up during the installation stage.