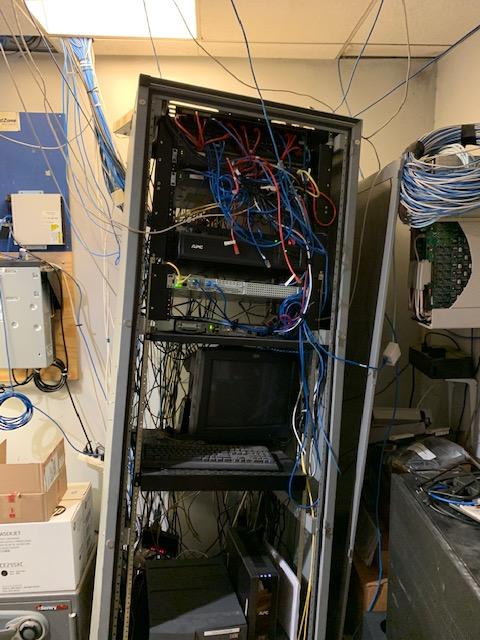 Today's photo caption: A nice network rack installation...only if it's in the leaning tower of Pisa!

Welcome back to Tech Service Today's IT Disaster of the Week series where we showcase the ugliest IT environment our technicians ran into this week.
I jokingly called this week's photo a nice network rack installation if it's in the leaning tower of Pisa. But let's be honest. As an IT professional, I can't find anything positive to say about the way this network was installed. There are a lot of things in this picture to address, but let's start with the most obvious: the leaning rack.
If you've never purchased a network rack/enclosure (often called a Server Cabinet), there are a lot of things you need to know before making your selection. For starters, you need to find one that is the right size. That means adding-up and comparing the dimensions of every piece of equipment you plan on storing in the rack/cabinet to every internal and external dimension of the rack/cabinet to ensure everything will fit. (If you need help in this area, click here to download our Racks-Cabinets Buyer's Guide for IT Professionals. It's completely free...Seriously! We don't even want your email address.) In this case, it appears someone chose a good size cabinet for this space.
You also need to make sure you have a dedicated place in which to place your rack or cabinet. Unfortunately, this network closet is also used as a storage closet. As a result, a lot of boxes and "stuff" are getting stacked around and against this cabinet. Since this cabinet was never bolted to the floor, the boxes of stuff getting banged against it may be one of the reasons it is now tilted. While the quality of the rack may (or may not) also be partially to blame for its slanted stance, a more compelling reason may be in where the equipment is mounted.
As the picture shows, this rack is top-heavy with equipment. But that doesn't mean it's wrong to mount devices near the top of the rails. When it comes to network equipment with lots of ports (i.e. switches and patch panels), it makes sense to mount them near the top of the rack because the cables in small networks like this usually come down from the ceiling and enter through the top of the rack. Plus, it's easier to perform everyday moves/adds/ changes when those devices are at eye-level instead of down low where you have to kneel to see what you're doing.
So then how can you make this rack less top-heavy? By relocating the other devices which aren't port-intensive and/or require easy access to (like servers, UPS/PDU's, etc.) down to the bottom half of the rack. With a lower center of gravity, the possibility of a rack or cabinet tipping (or tilting) is greatly reduced.
Now that we've addressed the Leaning Tower Of Network, let's look at the other major issue our Technician discovered upon arriving at this site to install a new network device: The total lack of any cable management or methodology.
Best practices suggest that all horizontal network runs be home-run to a network closet like this - ideally having them all drop from the ceiling at the same place (i.e. through a single drop-ceiling tile) and feed into the top of the server cabinet or rack. It appears that may have been done when this network was first installed (as indicated by the zip-tied bundle in the background). But cable drops added since then are coming out of 5 or 6 other ceiling tiles in every direction. And those cables are entering the cabinet from the top, the back, and even through the front (which explains why the front door was removed and placed beside the cabinet).
Every loose cable hanging in this network/storage closet is an accidental disconnect waiting to happen. If you're an IT professional who has ever left a job looking like this, consider this advice: Rather than of calculating how much time you'll lose by meticulously managing/ organizing every cable you add to a network, instead imagine how much money your customer will lose if their network goes down just because an employee went to the supply closet for a new roll of POS receipt paper and got snagged on one of the cables you left hanging from the ceiling.
If this week's photo shows us one thing clearly, it's this: when an IT technician doesn't do their job well, it results in a customer - and their network rack - getting seriously bent out of shape.
Remember, it's never too late to do the right thing, or to do things the right way.
Check back every Friday for TST's latest IT Disaster of the Week photo
which represents one of the thousands of customer sites our technicians visit every year as they install and service IT, networking, and telecom equipment & cabling for our clients. (You can also enter your email address in the Subscribe box to the right and we'll send you an email every time a new IT Disaster photo gets posted.)
Click here to see last week's IT Disaster photo.
Do you already have an IT disaster that needs to be cleaned up?
It doesn't take a rocket scientist to install a network. But to ensure that your equipment, racks and cabling are installed properly in an organized, efficient fashion, it does require the talents of a skilled IT technician. If you need help installing or cleaning up your network, contact Tech Service Today to have a skilled, seasoned Technician dispatched to your site.
---
At Tech Service Today, We SIMPLIFY IT, SERVICE IT, and SOLVE IT.
Call TST when you need on-site technical services anywhere in North America, even same-day when time is of the essence.
Call (800) 973-2022 (option 1), or Email us at Service@TechServiceToday.com