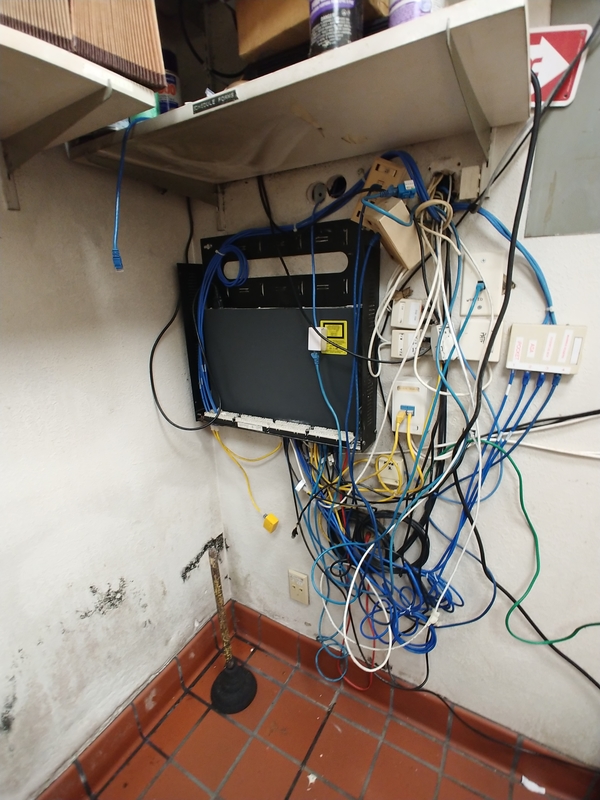 Today's photo caption: Clear signs that someone did a Crappy job installing your network.

Welcome back to Tech Service Today's IT Disaster of the Week series where we showcase the ugliest IT environment our technicians ran into this week.
If the rat's nest of cabling chaos in this week's featured photo isn't a clear enough sign for you, then let the toilet plunger on the floor be the tell-all that someone did a crappy job installing this small retail network.
When our technician arrived on site, no one could explain why the toilet plunger was sitting beneath the wall-mount network rack. Perhaps when the retail clerk was told their corporate office was having TST dispatch an IT technician to the store to troubleshoot their internet pipe, that clerk assumed he could fix it himself...with the only pipe-cleaning tool he had lying around? (We're just glad no one poured Liquid-Plumr into any open ports.)
But leaving the plunger aside, let's look at the main reason why we chose this network as our IT disaster this week. Many of the patch cables used are much longer than they need be, leaving lots of extra cable slack. Furthermore, no cable management solutions were used to organize those cables and prevent them from becoming the tangled jungle shown covering the wall.
While there are lots of moderately-priced (and expensive) cable managers available for environments like this, by simply using a handful of inexpensive Hook & Loop straps to bundle and organize these cables, this chaos could be tamed significantly in just a few minutes. Such a simple solution makes any future moves/adds/changes to this network much easier (and quicker) to perform. It also reduces the chances of someone accidentally getting caught on a loose, stray cable (perhaps when they are reaching for the toilet plunger?) and either kinking those cables or completely disconnecting them from the network.
Accidental disconnects are a common problem in environments like restaurants and retail stores where non-technical employees work in very close proximity to network equipment and cabling. That's why it is so important to keep cables out of the pathways where employees and customers might get caught-up in them.
Disconnects equal down-time; and we all know how much down-time stinks (no pun intended). So this week's advice is quite simple: If you want to avoid plunging down a path filled with accidental cabling disconnects, then spend a little time cleaning up & securing your network cables. If you are too busy to do it yourself, remember that you can always call TST for help.
Check back every Friday for TST's latest IT Disaster of the Week photo
which represents one of the thousands of customer sites our technicians visit every year as they install and service IT, networking, and telecom equipment & cabling for our clients. (You can also enter your email address in the Subscribe box to the right and we'll send you an email every time a new IT Disaster photo gets posted.)
Click here to see last week's IT Disaster photo.
Do you already have an IT disaster that needs to be cleaned up?
It doesn't take a rocket scientist to install a network. But to ensure that your equipment, racks and cabling are installed properly in an organized, efficient fashion, it does require the talents of a skilled IT technician. If you need help installing or cleaning up your network, contact Tech Service Today to have a skilled, seasoned Technician dispatched to your site.
---
At Tech Service Today, We SIMPLIFY IT, SERVICE IT, and SOLVE IT.
Call TST when you need on-site technical services anywhere in North America, even same-day when time is of the essence.
Call (800) 973-2022 (option 1), or Email us at Service@TechServiceToday.com