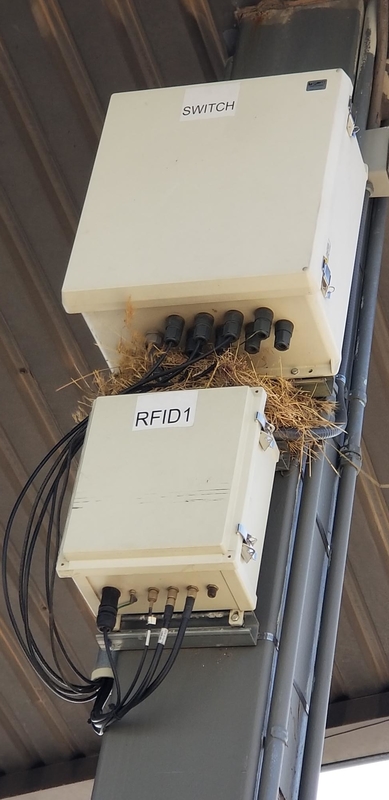 Today's photo caption: Is this an IT Professional's Cardinal Sin?

Welcome back to Tech Service Today's IT Disaster of the Week series where we showcase the ugliest IT environment our technicians ran into this week.
To be fair, it's wrong to call this week's disaster photo a cardinal sin for two reasons. First, the technician who performed this installation at a fueling station did a great job. And second, the reason it's a disaster is not because of a cardinal, but rather a song sparrow (if our Technician is to be believed).
Despite whether or not our photo caption is appropriate, this disaster photo is significant because it addresses an important concept in the IT industry: When planning any new technology rollout to multiple sites across an enterprise, even the best laid plans can get fouled up by unforeseen problems (or in this case, fowled up). You can bet the person who planned this project didn't include a contingency for dealing with avian attacks on their network. Who could have foreseen this being an issue?
Are you ready for me to share a magical bit of knowledge with you that completely eliminates any possibility of hiccups ever occurring in your IT environment? Well dream on because no such thing exists. I can, however, suggest a tried & true practice that significantly reduces unforeseen problems in any multi-site IT equipment rollout project. It's called PILOT SITES.
Notice that the second word is plural. If you are planning to have any kind of new equipment installed in lots of different locations -- whether it be new computers, point-of-sale systems, wireless access points, new high-speed routers or switches, or even digital signage displays -- the best way to discover the potential problems your installation technicians may encounter in your facilities is to participate in (and/or perform) the first few installations yourself.
By visiting several different sites and documenting the installation process and challenges that arise, you can build a set of instructions for your rollout project that address many of the more common obstacles the installation technicians may encounter. That helps them complete their jobs more quickly while reducing the number of surprises that surface during the project (most of which become delays and/or cost increases).
If you are interested in learning more Best Practices for IT Rollout Projects, just download our free white paper or watch our video series.
Why are we so willing to share with other IT professionals the knowledge we've acquired (often the hard way) during hundreds of IT rollout projects we've completed for our customers? Well, you know the old saying: Birds of a feather...
Check back every Friday for TST's latest IT Disaster of the Week photo
which represents one of the thousands of customer sites our technicians visit every year as they install and service IT, networking, and telecom equipment & cabling for our clients. (You can also enter your email address in the Subscribe box to the right and we'll send you an email every time a new IT Disaster photo gets posted.)
Click here to see last week's IT Disaster photo.
Do you already have an IT disaster that needs to be cleaned up?
It doesn't take a rocket scientist to install a network. But to ensure that your equipment, racks and cabling are installed properly in an organized, efficient fashion, it does require the talents of a skilled IT technician. If you need help installing or cleaning up your network, contact Tech Service Today to have a skilled, seasoned Technician dispatched to your site.
---
At Tech Service Today, We SIMPLIFY IT, SERVICE IT, and SOLVE IT.
Call TST when you need on-site technical services anywhere in North America, even same-day when time is of the essence.
Call (800) 973-2022 (option 1), or Email us at Service@TechServiceToday.com