Welcome back to Tech Service Today's IT Disaster of the Week series where we showcase the ugliest IT environment our technicians run into this past week. This week's IT Disaster has to do with PS/2 technology. Since my younger readers are probably asking "how could playing Grand Theft Auto on my old, second-generation PlayStation console result in an IT disaster?", perhaps an explanation is warranted.
In the early days of computing (circa 1987), IBM standardized on the use of a 6-pin mini-DIN connector for connecting keyboards and mice to their personal computers. Those connectors were called PS/2 (not to be confused with PlayStation's PS2 gaming console). It wasn't until shortly after the turn of the century (a phrase I still find awkward to use) that computer peripheral manufacturers finally underwent a wide-spread adoption of USB connectors, which spelled the beginning of the end of the PS/2 connector.

Now we flash-forward to this past week when a customer called us for help because they could not get their keyboards and mice to work with any of their computers. Upon visiting their site to troubleshoot the issue, our Technician quickly identified the root of the problem.

In an effort to save money, our customer's recent purchase of all new desktop computers did not include keyboards and mice because they assumed they could use the old ones. Unfortunately, all those peripheral devices had PS/2 connectors, making them incompatible with their new PCs.

While we were able to quickly resolve this issue by deploying PS/2-to-USB adapters to all of their PCs, I have to wonder how – and why – they kept their old PCs operational for almost 20 years before finally replacing them. In fact, I'd be curious to know how well their company fared against their competitors over the last two decades. When you spend countless hours trying to stretch out the life out of antiquated IT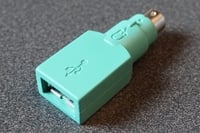 hardware, you often exceed the costs you would have incurred by just replacing it. More importantly, by failing to embrace the latest digital technologies, your company may do more than just lose ground (market share) to your tech-savvy competitors; it could fail altogether.

If you polled our customers concerning their perceived importance of technology to the success of their businesses, the opinions would vary greatly. But they all agree that Tech Service Today helps them save money by providing immediate access to IT technicians only where and when they need them, in lieu of suffering the financial burden of employing full-time IT staff members at all their locations.
Check back every Friday for TST's latest IT Disaster of the Week photo
which represents one of the thousands of customer sites our technicians visit every year as they install and service IT, networking, and telecom equipment & cabling for our clients.
Click here to see last week's IT Disaster photo.
Do you already have an IT disaster that needs to be cleaned up?
It doesn't take a rocket scientist to install a network. But to ensure that your equipment, racks and cabling are installed properly in an organized, efficient fashion, it does require the talents of a skilled IT technician. If you need help installing or cleaning up your network, contact Tech Service Today to have a skilled, seasoned Technician dispatched to your site.
---
Need help installing, troubleshooting, testing, documenting, or replacing your network cabling? Call Tech Service Today for on-site technical services anywhere in North America - often same-day when time is of the essence.
Just call (800) 973-2022 (option 1), or Email us at Service@TechServiceToday.com