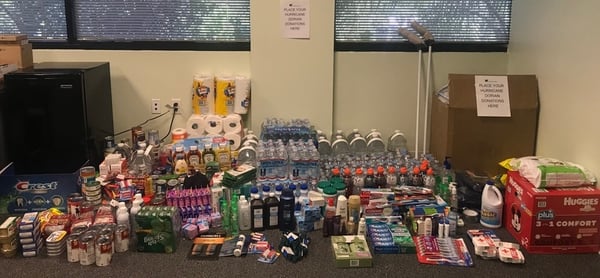 BOYNTON BEACH, Florida (September 30, 2019) - Tech Service Today (TST) Staff Donates a Sizeable Relief Package to the victims of Hurricane Dorian in the Bahamas.
At Tech Service Today, our team members give more than just Thanks.

Hurricane Dorian caused devastating damage and disrupted thousands of homes and livelihoods in the Bahamas. Having several team members born and raised in the Bahamas, Tech Service Today (TST) received first-hand accounts of the wide-spread destruction and human hardships through family members who still reside there.

While we could have made a monetary donation to relief organizations, our team chose a more active approach in the form of helping other companies build a massive relief package that would ship to the Grand Bahama Port Authority courtesy of Fowlco Import Export in Fort Lauderdale, Florida.

For two weeks, each department within TST competed to see who could donate the most relief items. In the end, there were over 800 items in our conference room - everything from bottled water and canned foods to cleaning supplies, toiletries and even diapers - that were shipped to the Bahamas at the end of September.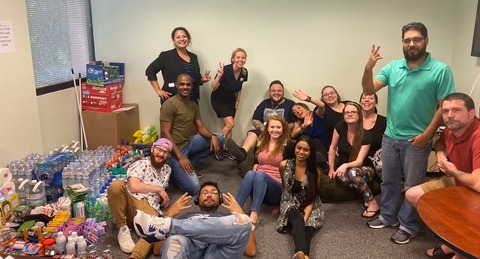 While Craig, Ashley & Macie in our Accounting Department are credited with donating the most items (with our Sweeps and Tier2 teams placing a close 2nd & 3rd behind them),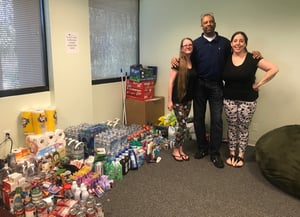 the only prize any of our team members received was the knowledge that many people in dire need were helped by their efforts.

It's one thing to give thanks at this time of the year. But it is quite another thing to be surrounded by a staff who believes in giving so much more than that throughout the year.

If you are interested in working in a fast-paced, customer service-centric company whose team members are actively involved in orchestrating company-wide charitable activities and giving programs, then consider joining the elite team at Tech Service Today. See our Careers page for current openings.
---
About Tech Service Today, LLC:
TST is an on-site IT & Telecom technical services company providing professional, high quality services to keep business systems productive & reliable. They install and upgrade cabling, telecom, network equipment, PC's, WiFi access points, printers, POS systems, CCTV, fiber optic and many other critical business information technology infrastructure, which requires hands on assistance. They work with many large well known businesses across North America in every industry including restaurants, hotels, property management, healthcare, financial companies and much more.
Any questions about Tech Service Today, do not hesitate to