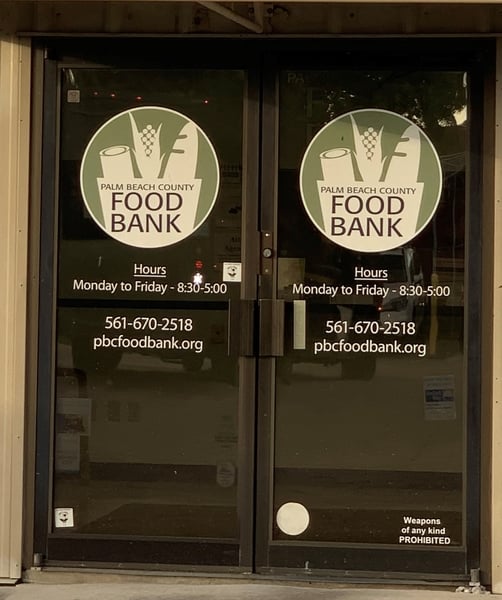 BOYNTON BEACH, Florida (November 22, 2019) - Tech Service Today's Staff Delivers Large Donation to the Palm Beach County Food Bank.
At Tech Service Today, our team members believe in giving more than just Thanks.

Some may find this hard to believe, but homeless people and less-fortunate families who often struggle to gather enough money for a square meal can be found in cities and towns all over the United States....even in sunny, warm Florida. So the team members at Tech Service Today decided to take action to help the folks in our local communities.
For several weeks, team members collected non-perishable food items and brought them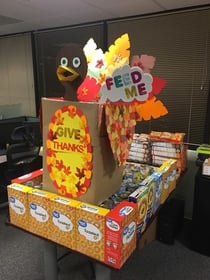 into our office located in Boynton Beach, Florida. One creative team member even made a display to remind everyone of this ongoing charitable effort.
On Friday, November 22nd, our staff loaded a car and delivered 400 food items to the Palm Beach County Food Bank, whose Director was thrilled and greatly appreciative of our surprise delivery.
At Tech Service Today, our philanthropic efforts aren't random, nor do they only occur around the holidays. Our team members created a Volunteer Work group in our office to collectively plan and participate in worthy charitable activities and donation collection efforts throughout the year.
If you are interested in working in a fast-paced, customer service-centric environment where team members can make a difference in their professional lives and the communities around them by getting involved in company-wide charitable activities and giving programs, then consider joining the elite team at Tech Service Today. See our Careers page for current openings.
---
About Tech Service Today, LLC:
TST is an on-site IT & Telecom technical services company providing professional, high quality services to keep business systems productive & reliable. They install and upgrade cabling, telecom, network equipment, PC's, WiFi access points, printers, POS systems, CCTV, fiber optic and many other critical business information technology infrastructure, which requires hands on assistance. They work with many large well known businesses across North America in every industry including restaurants, hotels, property management, healthcare, financial companies and much more.
Any questions about Tech Service Today, do not hesitate to