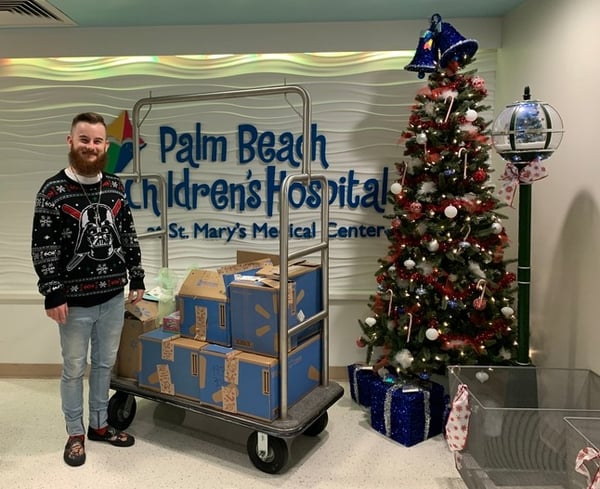 BOYNTON BEACH, Florida (December 19, 2019) - Tech Service Today concludes its first annual Toy Drive with large delivery to Palm Beach Children's Hospital.
As part of Tech Service Today's first annual Toy Drive, the entire staff rallied for the first few weeks of December to collect toys for children who are spending their holidays at Palm Beach Children's Hospital at St. Mary's Medical Center.
"We call our team members stallions (spelled "TSTallions") because they are such work horses" says TST founder Kevin Carbone. "They not only give their all to our customers and colleagues all day, every day, but they also work incredibly hard on charitable activities and programs that help those in need in their communities."
Tim Sauer, Director of Sales & Marketing at TST, agrees. "I can't tell you how inspiring it is to work with a team whose generous spirit is not just seen during the holiday season, but is alive and active throughout the year. Some of our TSTallions don't have much themselves; yet that never stops them from giving to others who are less fortunate. In my humble opinion, such people are true superheroes."
TST's Service Director, Christie Meade, explains that "all of the toys collected for our first annual toy drive were purchased by our TSTallions and their families. When you compare the relatively small size of our headquarters staff to the fact that we delivered over 250 toys to the Palm Beach Children's Hospital today, it shows just how committed our team is to giving."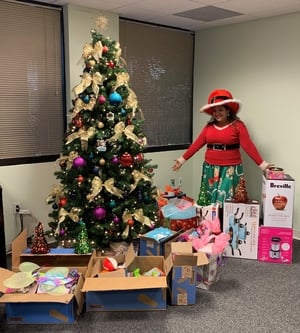 According to Meade, her colleagues didn't stop with the toy drive. Through the St. Mary's Medical Center staff, she learned about a family in need this holiday season - specifically a single mother and her three special-needs children. As the full-time caretaker of her children, there is no room in her life for a job. This situation not only makes it impossible for her to afford Christmas gifts for her children this year, but she's also lacking some of life's basic necessities.
Upon hearing her story and relaying it to our staff, the TSTallions unanimously voted to secretly adopt the family and start shopping for the many items on their Wish List provided by the St. Mary's staff.
After the TST team wrapped the toys, kitchen appliances, pots & pans, clothing (for both mom and her kids), and even a new tablet computer for each of the children, Ms. Meade had the privilege of delivering everything to the family. When asked about the experience, she said "it was one of those life events that's so overwhelmingly heart-warming, it just can't be put into words. But it's a feeling that every TSTallion has grown greedy to continue experiencing throughout the year, and that warms my insides even more."
At Tech Service Today, our philanthropic efforts are coordinated by a group of volunteer TSTallions who collectively decide which charitable programs and deeds-of-kindness activities our staff will participate in as a team throughout the year.
If you are interested in working in a fast-paced, customer service-centric environment where team members spend every day improving the lives of their colleagues, their customers, and those in need in the surrounding communities, then consider joining the elite team at Tech Service Today. See our Careers page for current openings.
---
About Tech Service Today, LLC:
TST is an on-site IT & Telecom technical services company providing professional, high quality services to keep business systems productive & reliable. They install and upgrade cabling, telecom, network equipment, PC's, WiFi access points, printers, POS systems, CCTV, fiber optic and many other critical business information technology infrastructure, which requires hands on assistance. They work with many large well known businesses across North America in every industry including restaurants, hotels, property management, healthcare, financial companies and much more.
Any questions about Tech Service Today, do not hesitate to